Phone:
(505) 275-1250
Fax:
(505) 275-1193
Email:
info@boydeng.com

Boyd Engineering Supply Co.
206 Conchas SW
Albuquerque NM
87123

© Copyright 2000, Boyd Engineering Supply Co.
Comments or suggestions to the Site Editor
Home Page URL: http://www.boydeng.com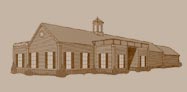 Boyd's "Lunch & Learn"
Contact us for on site classes. These can be tailored to your needs and most can be done during lunch. Examples include steam trap basics, pump basics, hydronics 101, ect. Call for more information.
---
ITT Fluid Handling Classes
ITT Fluid Handling offers classes and seminars covering a wide range of topics tailored to different occupations in the industry. Classes are available for engineers, contractors and installers in the proper design, installation and maintenance of hydronic and steam systems.
Classes are held at the "Little Red Schoolhouse" in Morton Grove IL. There is no cost for the classes or materials. Travel and lodging costs are the responsibility of the student.
Attendance is by select invitation only. Please call us to sign up for a class or to get a current schedule of classes.
Classes offered at the Little Red Schoolhouse™

School of Living Comfort:

Wholesalers, designers, contractors, with a need to understand hydronic systems.
4 days, 3 CEU credits

Design and Application:

Engineers, architects, system designers, and mechanical contractors looking for in depth knowledge of hydronic system design.
3 days, 2 CEU credits

Service & Maintenance:

Hydronic systems maintenance and service personnel looking for information on pump repairs, troubleshooting, etc.
3 days, 2 CEU credits

Steam Systems Design Seminar:

Engineers, designers, plant supervisors looking for information on piping, and problem solving of steam systems.
3 days, 2 CEU credits

Large Chilled Water Design

System approach to loads, piping, pumping, variable speed pumping, and alternative pumping strategies.
3 days, 2 CEU credits